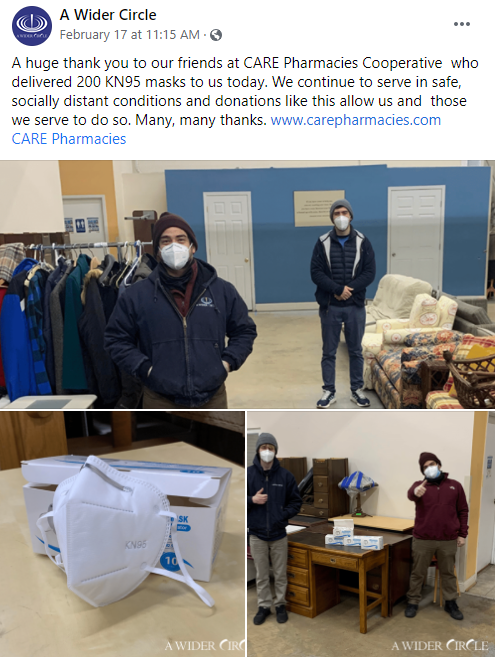 Throughout the COVID-19 pandemic, CARE Pharmacies has donated KN95 masks and 3-ply surgical masks to a variety of organizations in need of PPE, including the Reese Volunteer Fire Company, A Wider Circle, The Education Foundation of Baltimore County Public Schools and the Exchangeree Program. These organizations are all out there on the front lines and in the community helping those in need and CARE is honored to support them.
Reese Volunteer Fire company
Carroll County is one of the few areas in Maryland that is protected by volunteer fire departments. There are fourteen independent departments in the county that work together to provide excellent fire and pre-hospital medical coverage. As the Reese/Finksburg/Westminster area continues to grow, so does the number of emergency calls they respond to each year. Last year alone, our department responded to 701 Fire/Rescue calls and 1,008 EMS incidents.
To maintain our present level of emergency services in our community, we must keep our equipment and apparatus in perfect operating condition. The cost of maintaining this service is very high and continues to rise rapidly. Learn more about the Reese Volunteer Fire Company here.
A Wider Circle
The mission of A Wider Circle is to end poverty. Their holistic approach integrates on-the-ground services for the creation of stable homes, workforce development, and neighborhood revitalization. They also seek to develop large-scale solutions that incorporate greater awareness and engagement by the community.
A Wider Circle has been called "the quintessential grassroots movement" and has been twice named "one of the best" by the Catalogue for Philanthropy. The organization is poised today to be a major part of the national movement to end poverty, to bring about an end to poverty for one individual and one family after another. Learn more about A Wider Circle here.
Education Foundation Of Baltimore County Public Schools
Long-heralded as a successful and stable school district, Baltimore County Public Schools is poised for greatness with bold new ideas, a renewed commitment to the success for all students, and extensive community outreach. The Education Foundation of BCPS, Inc. works to build and provide resources to serve our students, educators, and schools. The foundation if focused on three primary goals for carrying out its mission in support of our vision.
Fundraising: Facilitate corporate and community partnerships to raise money and acquire resources necessary to support our advocacy programs.
Advocacy: Provide leadership to drive awareness for unment needs in public education that require additional support.
Programming: Develop and manage programs for grants, scholarships, and special initiatives that advance educational outcomes.
Learn more about the Education Foundation of BCPS here.
Exchangeree Program
Our community recognizes the need to support our teachers and students lacking appropriate school supplies and resources and has rallied to make a difference through giving to the Tools for School campaign. The response from the community embracing that effort has been inspiring, and to build upon the campaign the Education Foundation of BCPS has launched an initiative to make donated resources and supplies available to teachers for free year-round through opening a new community resource center called "The Exchangeree."
The Education Foundation of BCPS opened two permanent locations for teachers throughout the district to obtain much needed school supplies for their students at a brand new teacher exchange resource center. Teachers now have an opportunity to sign up for sessions to visit the locations and receive free school supplies for students in need, year-round. Learn more about the Exchangeree Program here.