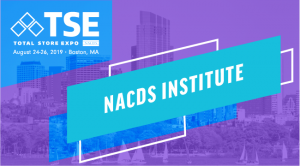 NACDS Institute: exploring specialty drugs & care services in community pharmacy.
Boston Convention and Exhibition Center, Room 253 C | 3:00pm – 4:30pm
Community pharmacies across the United States increasingly offer specialty services to meet the evolving needs of their patients. Innovative specialty drugs offer needed cures and treatments for patients, often those dealing with complex disease states, and the delivery of such drugs requires high touch interaction with patients to manage their therapies.
Presenters: 
Doug Long, Vice President, Industry Relations, IQVIA
Rina Shah, PharmD, Group Vice President, Specialty & Retail Pharmacy, Walgreen Co.
Michael Wysong, Chief Executive Officer, CARE Pharmacies Cooperative, Inc.